It's been quite the long time since I was able to say I was up to current in the two biggest anime series' this side of the rising sun. For as long as both series were nothing but filler episodes, I had been taking my time off from both. I stopped watching Bleach around episode 80 if I remember correctly, and Naruto at close to 140. So, that means I've basically skipped 30 episodes of Bleach, and a ridiculous 80 plus episodes of Naruto. I'm not going to venture into what I skipped, for good reason, but having started again, what am I missing? In short, nothing. In good faith, before I continue, the occasional spoiler might be present.




Bleach starts off the Arrancar arc at episode 110, and damn has it been a long time since I geeked out watching Ichigo and company go shinigami in what is probably my favorite currently airing anime. The show picks up right where it left off, leaving only the occasional lingering character from the filler Bount arc, and I've only felt out of the loop in a couple instances. Wiki solved all my worries, and at seven episodes in, the series is as good as it ever was. The introduction of the Arrancar, the Vizard, and one incredibly badass shinigami who I'll save the pleasure of naming for those watching, all make for one hell of an action packed return. I'm more eager to be watching Bleach than I ever was before, as the battles are growing larger, the characters more powerful, and the locale, dare I lead on what I shouldn't know, is going to be a bit darker from here on.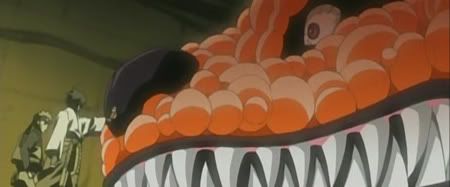 Naruto: Shippuuden, or Naruto: Hurricane Chronicles, as it's being called, starts off a little slower. With the exception of a little introduction that alludes to some interesting events to come, the series starts with Naruto's return to Konohona after his long training session. This is being billed as an entirely new series, and that is essentially the most interesting part. All of the characters, at least the young ones, have aged and are now more responsible, powerful, and most importantly, not as damn whiny as they were before. The show is intended for an older audience than it was before, so while it will definitely still include much of Naruto's humor and antics (note: the kancho has already made a sparkling debut), everything is slightly more serious in tone. My props are already delivered to the original crew and Gaara, as each of the characters is visibly more powerful, thoughtful, and finally in a world full of fucking ninja; they are acting a little like, you know, ninja.

So, by all means get to watchin'. A fan of both series is already a total 11 episodes behind from the time both new arcs began.
10 Comments:
7:26 PM

I finally found it in myself to start downloading the new Naruto eps. this afternoon. I grabbed the first three, and I'll most likely be watching them this evening.

12:29 AM

It's horrible, but the fact that the semester is coming to close actually makes me want to avoid watching Bleach and/or Naruto anymore. I know I'll be stuck for four months without being able to watch either of them. I figure I'll finish up the uber Naruto vs. Sasuke fight I've heard so much about and then I'll stay away from bother series for over a third of a year.

3:27 AM

Pacquiao vs Marquez Tickets

3:28 AM

Hopkins vs Dawson Tickets

3:29 AM

Cotto vs Margarito Tickets

3:29 AM

Donaire vs Narvaez

3:30 AM

Martinez vs Barker Live Streaming

3:31 AM

Donaire vs Narvaez Tickets

3:31 AM

Martinez vs Barker

3:32 AM

Pacquiao vs Marquez Tickets