Now that 300 has finally made it to the theater-going public, asking me what my most anticipated movie for 2007 is would yield an interesting answer. On one hand, Spiderman 3, Transformers, TMNT, Pirates of the Carribean 3, and a damn slew of other epic-level movies are on their way, but regardless of how seemingly amazing those all might be, I can't seem to shake a much less known movie, Paprika, from the top of that list.




Paprika is an anime movie, and I almost hesitate to say anime because I don't want Paprika to be pigeonholed into the same category as Fullmetal Alchemist, Naruto, Pokemon, and other more typical fare. That's not to suggest that any of those are particularly bad things. I've enjoyed each of them at some point, but they serve a very distinct purpose, and it is without shame that I say it is probably a significantly less thought intensive purpose than Paprika. Naruto is fun, plain and simple, but Paprika, and taking it to a series level, shows like Ergo Proxy and Stand Alone Complex, exist in the second tier of anime. Movies and shows that aren't only enjoyable, but deep and philosophically driven at the same time.

A capsulated synopsis of Paprika would read like this: "In the near future, a revolutionary new psychotherapy treatment called PT has been invented. Through a device called the "DC Mini" it is able to act as a "dream detective" to enter into people's dreams and explore their unconscious thoughts. Before the government can pass a bill authorizing the use of such advanced psychiatric technology, one of the prototypes is stolen, sending the research facility into an uproar. In the wrong hands, the potential misuse of the device could be devastating, allowing the user to completely annihilate a dreamer's personality while they are asleep. Renowned scientist, Dr. Atsuko Chiba, enters the dream world under her exotic alter-ego, code name "PAPRIKA," in an attempt to discover who is behind the plot to undermine the new invention."




Things go haywire when considering the nature or dreams, dreams mirroring reality, and all other potentially awesome things. What makes Paprika so interesting, is how beautiful the trailer seems. To attempt a project like this in anything other than animation would probably be suicide. Imagine the most ridiculous things that could happen in your dreams, and then you'll have a good idea at what Paprika might deliver.

Paprika is being released in America by Sony Pictures classics on May 25, and here's the catch. It's probably going to be of a vastly limited nature, and Pittsburgh might not see a release. That's not going to happen. Because everyone who reads this post is going to take two minutes out of their day and send an email here: oakscinema@aol.com The Oaks Theater is one of the only theaters in the area that often shows non-traditional releases. (i.e. Anime) They released Steamboy, Appleseed, and Sky Blue, when I think no one else had. Drop them a line that says we're interested in seeing Paprika in the Burgh, and there's a good chance, I think, that we'll have the opportunity. Make sure to say that:

1. You LOVE their theater.
2. You, and EVERYONE else you know is interested in Paprika.
3. You're reaching out to the Oaks because you know they care (cough ... guilt trip).

It just might work. If not, then I blame everyone of you for forcing me to download this movie and not support Satoshi Kon. Filthy pirates! Obviously, if you don't live here in Pittsburgh, then I don't blame you as much, but trust me, you're still not quite off the hook.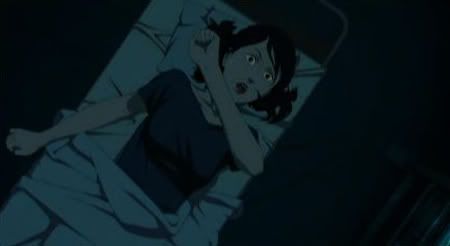 The trailer for Paprika is available here: Flash
Watching it again here is also available: Quicktime (Note: Also in HD here, which is practically orgasmic)
The hat trick would be here: Youtube

If there is any news about a theater listing, or any confirmation of Paprika showing locally, or not showing for that matter, I'll make sure to post about it. If the news is good news, you might just see me handing out fliers.

If anyone is interested, this is the website of The Oaks Theater. Not too much there, but of particular interest is the Moonlit Matinees Summer Film Festival, which will probably be updated soon for 2007. The Oaks always shows amazing indie, classic, cult, and foreign films each weekend throughout the summer. They sometimes even have prizes, celebrity appearances, parties, and Q&A sessions. All around good stuff.
7 Comments:
1:28 AM

I am definitely stoked about this movie. When you first sent me a trailer claiming that it looked better than the Appleseed sequel, I was skeptical, but that's no longer an issue. This looks to be in the same vein as Paranoia Agent, which is definitely a good thing.

The idea of looking into the mind of people through their dreams is a really interesting concept, too. To quote my Film professor when we were discussing German Expressionism, "People's minds are pretty fucked up places to be."

I'm also jumping right on with emailing the Oaks. At first I figured it wouldn't affect me since I would have no way to get there from Oakland, but then I realized that it comes out in May, meaning that I will be home and able to drive there. Let's cross our fingers and hope it shows there.

3:18 AM

Pacquiao vs Marquez Tickets

3:20 AM

Martinez vs Barker Live Streaming

3:23 AM

Cotto vs Margarito Tickets

3:24 AM

Martinez vs Barker Live Streaming

3:25 AM

Donaire vs Narvaez

3:26 AM

Hopkins vs Dawson Tickets