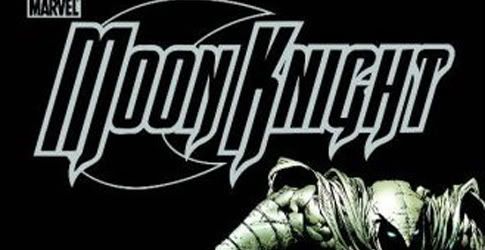 It's about time I put this post together, and I thought it would be important to start with the single most prominent thing about Moon Knight. Don't give him any shit, or he'll go ahead and cut your fucking face right off. I'm serious. If that isn't hardcore for a Marvel hero, I don't know what is.

In a panel that invoked everything hardcore that one could possibly bring to mind, Moon Knight does that deed to his arch-nemesis the Bushman, which was probably a good thing, because if I was going to commit to reading a book about a relatively lesser-known hero, I really don't want to hear about his unending battle with a fellow called Bushman. That shit would have gotten old really fast.

I'm getting a little ahead of myself, so I'll jump back to a more proper introduction. Moon Knight was relaunched just long enough ago for the first graphic novel collecting issues 1-6 to have recently made it to stores. I'd heard all about the critical reception of the new book and basically, it was praise all around. A ton has to go the artist, in this case David Finch (pretty sure), for bringing Moon Knight back with some serious style. In truth, he's not the toughest guy around, and I think even he'd admit it, but the way he looks in the relaunch you wouldn't be able to tell otherwise.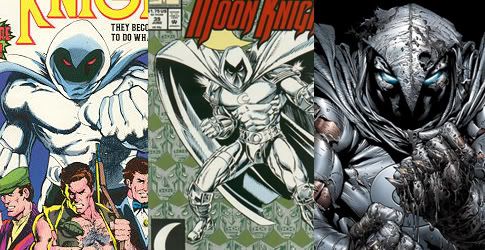 The evolution of Moon Knight from Casper the Ghost to Spawn in White.

The character is essentially Batman, in look and in spirit, as he's got no actual magnificent powers to work with. Add a dash of Spawn with the new gritty art style, cowl, cloak, and attitude; and top it off with some ancient Egyptian mythology, and that's Moon Knight in a nutshell. One of the coolest bits is where they explain why a character labeled Moon Knight, and obviously a patron of the nighttime hours, wears a shining white getup. Get this; it's because he's so hard that he wants them to see him coming, and be damned afraid he's there. Now doesn't Batman look a bit pansy from hiding in those shadows all the time?

The Egyptian mythology comes in to play through the backstory of Moon Knight and his relationship with the deity Khonshu. See, Moon Knight died, a few times actually, as both Moon Knight, and as Marc Spector before he took on the robes. He was returned to life by Khonshu, Egyptian god of the moon and vengeance, and his role is to be the avatar (living embodiment) of Khonshu. This seems like a cheeseball enough routine for a character, except Khonshu actually shows up to Moon Knight, talks with him, abandons him when he feels it's necessary, and expects him to deliver the requisite amount of vengeance necessary to satiate his thirst for bloodshed. This is where we start to see the layers of the character, as Spector doesn't necessarily want to go around cutting faces off, but without Khonshu he's, very literally, dead. Khonshu even appears to Moon Knight in the body of the Bushman, faceless and all, as a reminder of his greatest achievement towards vengeance. Dark, dark stuff.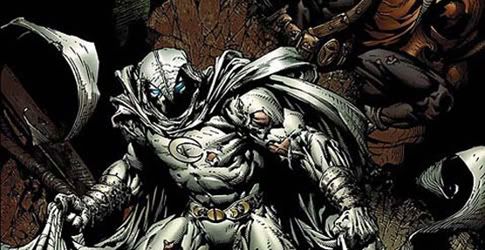 Check the battle with the most badass reworked Taskmaster ever for great, great action.

There are other layers to the character and the story as well, as Moon Knight has even suffered from multiple personality disorder in the past thanks to his various alter egos and identities, but this hasn't been brought up (yet) in the new story by Charlie Huston. The first book serves mostly as a reintroduction and rebirth of the character, an opportunity to meet some of the popular villains from Moon Knight's history, and a chance to see the very delicate relationship Moon Knight has with Khonshu.

I can't recommend the book enough, it's beautiful, well written, and hardcover (at least I think they're all hardcover), and it's running at about $6.50 used on Amazon. Pick up a copy in good condition and by all means give it a read. The series has moved on from this introductory story and I think even touched on some cool bits with Spider-Man, Captain America, The Punisher (where they both talk about being guys who just beat shit to death), and Civil War related issues. The second book hasn't been announced yet, but I'd probably expect it sometime this fall or winter.

BUY IT! BUY IT! BUY IT!
32 Comments:
2:16 PM

4:43 PM

5:01 PM

8:22 PM

9:55 PM

11:22 PM

11:54 PM

4:41 PM

2:30 AM

3:13 AM

8:28 AM

6:40 PM

9:44 PM

2:07 AM

5:48 AM

9:17 PM

12:00 AM

4:22 PM

6:12 PM

11:41 AM

2:14 PM

2:45 PM

4:59 PM

5:08 PM

11:34 PM

3:45 AM

7:14 AM

1:29 AM

8:53 PM

1:06 AM

4:25 PM

1:42 PM