Sometime last night, apparently when the blizzard was peaking, my power went out. Nothing amazing, but in this particular case, this was something I had been fearing. I was under the impression that my Wii only saved the game states of VC games as long as it remained in standby mode. So, about 10 seconds into the darkness, I thought aloud, "FUCK!" I had made it to the second level in Kid Icarus, the fourth or fifth in Super Castlevania IV, more than halfway through Kirby's Adventure, and through a nice chunk of Super Mario World. I was playing through each fairly often, particularly because I wanted to start doing some critiques of these retro titles on this very blog. The only reason I actually haven't started yet, is because I couldn't think of a damned name for the collection of retro features. Retronauts is taken, and Kohler stole "Virtual Consolation Prize" so I'm left with what? Yeah ... I'm silly. Anyways, my worries were unfounded, because all of my save states are still intact. So either I was wrong, or I've been blessed with the favor of the Nintendo god.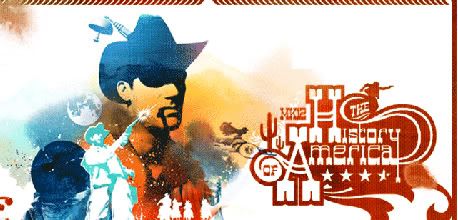 That of course wasn't the girth of this post, as I try not to blather on without something that is worth sharing. Luckily, The History of America is to my rescue. From Studio MK12, responsible for the effects in Stranger Than Fiction, is a movie about America. From their website: "It's about how America got born, with the cowboys and the astronauts and the whatnot." Terribly exciting stuff? Nah. Not really. Despite the short description, the idea of astronauts and cowboys together is enough to raise my eyebrow. Not to mention, the fact that MK12 could be shooting for a very deep, ideological explanation about the definition of America. What makes us Americans? Well, I know that doesn't get everyone going like it does me, so this production picture should suffice.



Freaking hatchet attack from the flying astronaut! And he's hatcheting cowboys!

Few words describe how awesome this could be. It's got an interesting rotoscoping animation technique, similar to A Scanner Darkly, and the movie is apparently already in post production. Check out the two trailers.

Trailer One
Trailer Two

The second trailer is the better of the two, but definitely watch both.
6 Comments:
3:07 AM

Pacquiao vs Marquez Tickets

3:08 AM

Cotto vs Margarito Tickets

3:09 AM

Martinez vs Barker Live Streaming

3:10 AM

Hopkins vs Dawson Tickets

3:12 AM

Donaire vs Narvaez

3:12 AM

Pacquiao vs Marquez Tickets