I'm usually in the know, or I don't really care about ... things like Pandora Internet Radio. Who knows? Maybe my news upkeep is getting slow in my old age. However, upon the suggestion of one of my new coworkers at the B&N Starbucks Cafe, I decided to try out Pandora and see how well this idea was being brought to fruition. In short: Well.




Pandora is an internet streaming radio that upon the suggestion of an artist or song title, proceeds to tailor-make a station suited to that particular variety of music. All with the purpose of suggesting new music that might have otherwise been missed. I was initially mostly worried that I'd enter a band I enjoy, say The Decemberists, and always find myself with recommendations to schlock like The Killers, and countless other bands that litter the pop/indie rock scene. It didn't work like that, actually it worked a little like this:


I suggested The Decemberists (For those not "in the know" The Decemberists are a folksy, mostly mellow band with suitably deep lyrics and a nice sparse guitar/melody backdrop. Pandora immediately plays a song from the band in question, the song chosen was, "The Shankhill Butchers."


"The Shankhill Butchers" is probably THE most sparse of the tracks on Crane Wife, so I was excited where this was going to go from here. Upon the next song, Pandora announces to me: "Based on what you told us, we're playing this track because it has subtle use of vocal harmony, minor key tonality, electric rhythm guitars, prominent organs, and acoustic rhythm guitars." Umm ... wow. The lineup continued on with music in the same vein:

"Tomorrow Too Late"

by Saves the Day - I actually had this album, didn't like it much, but I hear the similarities now.
"Like You Know"

by Film School - Never heard of this band, good song though.
"Somethings Always Wrong"

by Toad the Wet Sprocket - Holy Shit! I haven't heard this group in years.
"Summersong"

by The Decemberists - I like that it returned to the Decemberists, and it allows me to tweak my selections by suggesting that I liked this song more than "The Shankhill Butchers"

It kept going on after that, and I realized that the entire affair was pretty hotsauce. Eventually the player stopped me and I had to register, and even after that it forced me to stop skipping songs, as licensing only allows so many skips per hour ... or something. This can be avoided by just creating a new station with a new artist or song.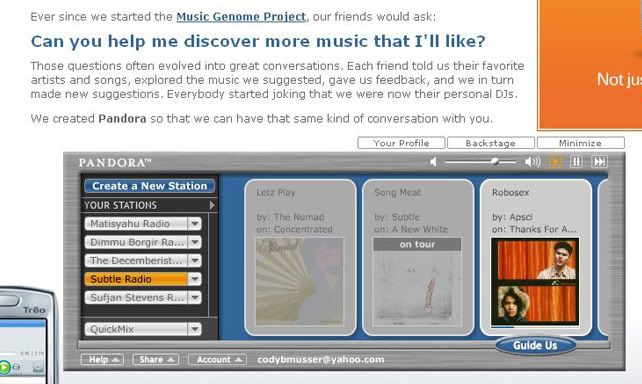 Curious to see if Pandora embraced other musical genres well, I delved into Nathan's blerphtacular musical selection of choice. The metal lineup, starting with my selection of supreme metal masters Dimmu Borgir, went as follows:

"Over Bleknede Blaner Till Dommedag"
by Dimmu Borgir - I just know that's doomsday.
"Wolfera the Chacal"
by Rotting Christ
"Clones"
by Enclave
"April"
by Chapterhouse
"Allegiance"
by Dimmu Borgir
"Year or the Plague"
by Mercenary
"Dusted"
by Sepultura

This is going to require some approval, but with the seclusion of a few songs, the lineup seemed pretty fucking metal. I wanted to lastly try something unique: Matisyahu. What would Pandora suggest in comparison to a hip-hop, reggae, Hassidic masterpiece?

"King Without a Crown (Original Version)"
by Matisyahu - I've never actually heard the original. Neat-o!
"Time is Getting Harder"
by Culture - Excellent reggae artist/song I've never heard.
"All I Do"
by Junior Kelly - The reggae continues, and gets better.
"Feed my Girl"
by The Slackers - Kind of sucked. Thumb-downed it and moved along.
"Jerusalem"
by Matisyahu
"Border Patrol"
by Eek-A-Mouse - More unique reggae. I'm loving this.
"God Nah Sleep"
by Assassin - Where was all this music hiding? Unbelievable.

I experimented with even more bands and genres, and I'm more happy to have discovered Pandora than most things. The entire system is fantastic, and I could see it totally opening my eyes to some new artists that I wouldn't have discovered otherwise. I could see if Mr. Metal himself were a little disappointed, as his particular genre of choice probably gets a little jumbled together under the larger scope of Pandora. Regardless, I'm thrilled. I can imagine the side-effects this is going to have on my Amazon Wish List.
1 Comment:
TimofSuburbia said...

12:08 AM

Expand your Pandora experience at...

http://pandorastations.crispynews.com

Thanks!

Tim