I don't think I actually have the time to be making this post, but well, I'm crazy. I never managed my time that well before, so why start now? Anyways ...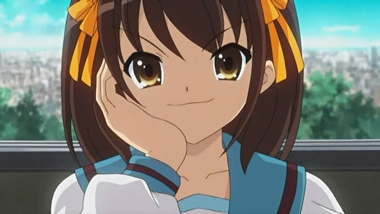 I just finished The Melancholy of Haruhi Suzimiya and whew!, it's a killer. As a short series (14 episodes) it's difficult to compare the story with some of the longer anime out there, but this show makes up for it in so many ways. Like:

1. The Music: The theme song for Haruhi "Bouken Desho Desho?" is sang by the voice actress of Haruhi herself, Aya Hirano. So excellent! ... and while that is something that everyone should go listen to, a particular episode follows a storyline that ends up with Haruhi performing two songs in a concert, and they too are performed by Aya Hirano. I might consider them the best songs ever performed in anime, ever-like. Yuki's "solos" are just pimpsauce.

Such can be found here. For the sake of all that is holy, watch such coolness. NOW!




2. The Fanservice: Normally, I'm neither here nor there on fanservice. I don't necessarily enjoy it, but I don't hate it either. Most of the time I find it kind of creepy, in the sense that these are like, girls, and by girls I mean not women. Also, they're cartoons. Haruhi seems to avoid most of that and the fanservice is actually kind of funny in most cases.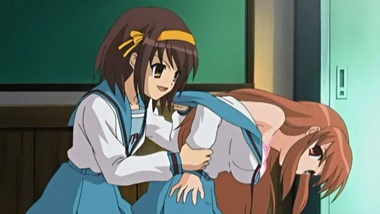 3. The Mood: Haruhi, while taking itself as joke most of the time, is actually rather serious as well. There is some good social commentary about giving up on dreams (Haruhi's dreams in particular), and there are some really somber moments that make for some great thought pieces. Yuki's never-ending dramatic pauses being one of my favorite things in the series. She's also probably my favorite character. Not only is she quiet, reserved, and mysterious, she's also probably the most bad-ass character in the series.




4. The Timeline: The creators of Haruhi took some serious notes from Tarantino to use in this anime. The episodes from Haruhi jump back and forward in time and it makes the series more interesting than it would be otherwise. You actually have to piece things together actively instead of following along in a linear fashion. I love it!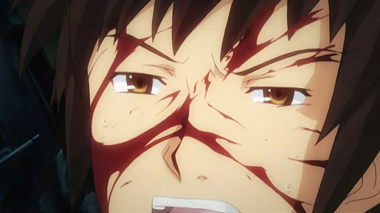 5. The Suprise: Haruhi is generally a character drama, but the suprises contained within are supremely awesome. I won't spoil them for anyone, but I really doubt anyone going into this series will expect some of the things that actually happen.




Bonus - The Art: Some seriously beatiful moments in Haruhi. Wind-swept hair, the shine on a pair of glasses, and other wonderfully pretty scenes contained within.




Ultimately, I can't recommend The Melancholy of Haruhi Suzimiya enough, I'd love to go into detail and talk about the revelations in the series, but in faith that someone might read this (cough ..Nathan.. cough) and it inpsires them to partake in the series, I don't want to be the one to have ruined it. The full 14 episodes can't take too much time for most anyone, indulge yourselves and watch some very, very solid anime.

A Half-Assed Series Review Score: 9 out of 10
0 Comments: