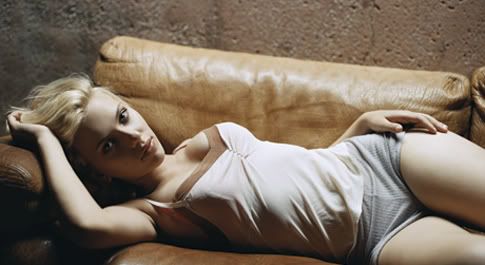 I take it you've all heard that Esquire, some time last year, went ahead and deemed Scarlett Johannson the Sexiest Woman Alive. This made me feel pretty much vindicated, as I've been touting that same line for a couple years now. She IS the Sexiest Woman Alive, and sure enough, she just went ahead and proved it once again. See, Scarlett Johannson is making a CD, and while that's a terribly cliche thing for an actor/actress to do, I have to believe that this one is going to be a little different than Eddie Murhpy's 80s disaster, or 30 Odd Foot of Grunt if you even know who that is. The description I found, somewhere in my vast (about 10 minutes worth) internet search on this matter was pretty much perfect; "All movie stars have to at least try to make a CD, because no matter how famous a movie star is, a rock star is, by definition, cooler."

This all comes together, because Ms. Johannson is creating an album of Tom Waits covers, and also, because I've heard her sing. She's silly good. Go ahead, take a listen:



I'll reiterate; the Sexiest Woman Alive with the Sexiest Voice. Did I mention she's my wife? No? Oh yeah... that's not true. She *could* be my wife. We're the same age and all. Let's see what I can do about making that happen. As long as I'm posting pictures, another wouldn't hurt.


6 Comments:
11:54 PM

Despite the fact that you profess to be this huge fan and all... I hope you realize that you didn't spell her name right. It's Johansson.

12:11 PM

She'll never have anything on Natalie Portman, though. Unless they make Star Wars Episode 7 and she plays Leia and Han's kid or something...

1:18 PM

Behold SnakeWesker, for he is the prophet of truth!

4:03 PM

she could sing me to sleep any day!

4:03 PM

want to trade links with my humor blog? check it out at http://jaysmoney.blogspot.com

if you want to trade post my link then contact me back.
thanks!

12:45 AM

Gostei muito desse post e seu blog é muito interessante, vou passar por aqui sempre =) Depois dá uma passada lá no meu site, que é sobre o

CresceNet

, espero que goste. O endereço dele é http://www.provedorcrescenet.com . Um abraço.