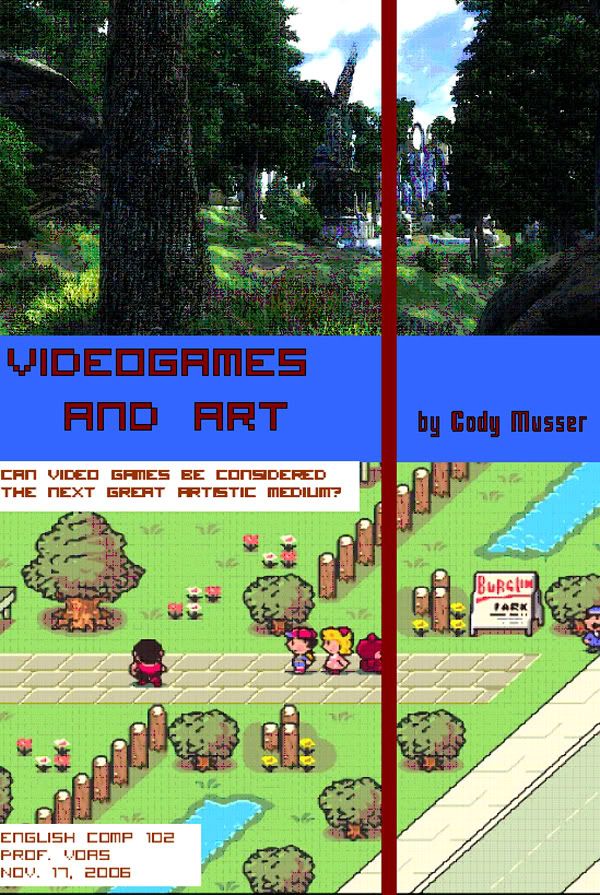 The advent of any new form of media carries with it the introduction of debate. Can film ever carry a story as well as literature? Will a soundtrack ever incite the same emotions as a symphony? As time passes, the debate settles, and the lines are drawn for that particular medium. Videogames, the relatively young form of media that they are, are still wavering amidst the debate that previously surrounded other forms of entertainment. In particular, videogames face the same difficult views that accompanied theater, and ultimately film, during their respective times of origin. While film and theater have rooted themselves within our culture, and have taken favor by those who would deem each medium a form of art, videogames still face a strong opposition. Those who feel videogames are either unworthy or unfit to be critiqued and appreciated as an art form weigh heavily on the issue, and their opinions sway an obvious majority to their cause. Unfortunately for those hoping to halt the artistic appreciation of videogames, the undeniable presence of art in all facets of videogames, be it creation, the end product, or the experience of play, proves that videogames are a new and emerging art form.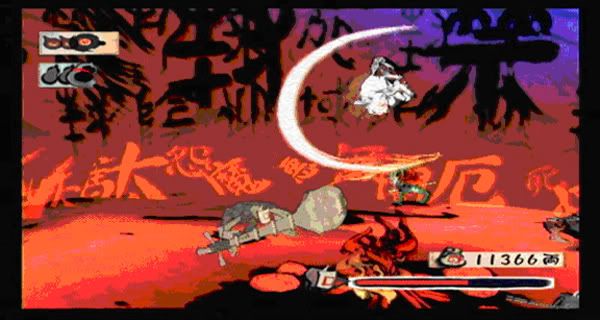 The traditional brushstroke style of Capcom's Okami surely deserves praise as an amazing piece of artwork.

The first appearance of art within a videogame is noted before the game is even a playable product. The creation of a videogame requires the presence of an artist from as early as the concept stage. Artists contribute to key moments in the creation of a game, whether as concept artists, character artists, animators, or level designers. (McCarthy 100) Artists also deliver to more than the visual aspect of a game, as composers often deliver the sound effects and music, and occasionally a game that offers a heavily scripted narrative or numerous dialogue situations will find it requiring input from authors and screenwriters. (McCarthy 110, 120) Videogames and film share an uncanny bond in these early development stages, and most likely for that reason, some of the world's most famous film makers are venturing into video game creation. Steven Spielberg, director of Schindler's List and Jaws, and Peter Jackson, director of King Kong and The Lord of the Rings are two of films most beloved directors, and they've both entered the realm of video game creation. (Tornquist)

The unfortunate truth is that while artists may help in the creation of videogames, that doesn't necessarily determine that games can stand their ground as an art form. Artists may also help create the layouts for newspapers, and contribute to numerous other affairs not necessarily respected as art, but that has had little impact on proving that a newspaper is a piece of art. Luckily, while a newspaper might not be deemed art-worthy by appearance, that doesn't mean the writing contained within isn't art. The same can be said for videogames. The inclusion of artists doesn't necessarily demand that a game is art, but the product and content they deliver, is luckily another consideration.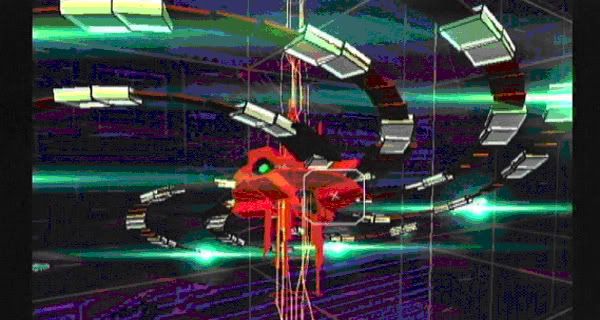 The acid-trip like visuals of Rez pulse and react to the players input and the accompanying soundtrack.

The final product delivered in a videogame is literally boasting of its artwork immediately. As soon as a game is placed on the shelf, the artwork on the case captures the eye of the consumer, and ultimately the visuals of the game itself are built around delivering the most impressive product as possible. Whether a game is stylized, realistic, or abstract, videogames represent art, and they represent a new, interactive form of art. Whether or not video games succeed in enrapturing the player isn't necessarily important, as other forms of art can also fail in enticing particular audiences. The most important effort is that they make the attempt, and that is more than enough. As Dr. Henry Jenkins, Director of MIT's Comparative Media Studies Department, states in the preface to Nic Kelman's Game Art:

"Video and computer games, as we currently understand them, constitute art. I emphasize the phrase, "as we currently understand them," because there are many more critics who have been willing to see games as a potential art from, seeing there the building blocks of something great and wonderful which we will see some day. For them, games can become art when they assume serious purposes, when they become meaningful activities, when our best artists build games, when we perfect the artificial intelligence, in short, when hell freezes over."

Kelman argues that videogames are art in all their forms, simple or complex, as game designers are gifted craftsmen who construct compelling and visually fascinating worlds deploying skills which we would see as artful if applied in any other context, and that video games are also constructing meaningful experiences which tap deep chords within our culture, in part because they are carrying on timeless functions previously associated with myths and legends. (Kelman 8-9)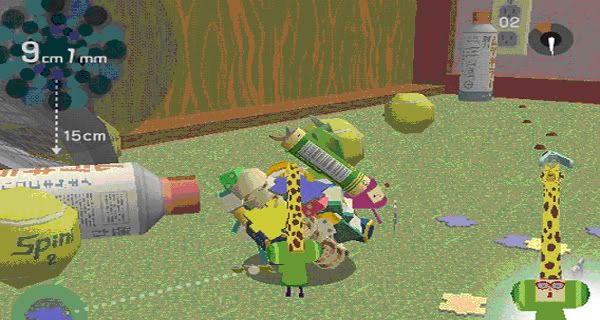 The abstract premise of Katamari Damacy: The Prince of all Cosmos endeavors to literally roll up the world.

The particular praise that Kelman attributes to videogame worlds is noteworthy, yet there is an attribute of videogames that hinders their appreciation as art. That attribute is interactivity. Interactive art is a relatively newly birthed creation, and as such, it doesn't necessarily help that video games are rarely enjoyed by anyone more than the player. Those not experiencing a videogame through gameplay are restricted in a similar fashion as those watching a film, compared to those determining the events and situations present in the game world. This notion of videogames is what allows many critics to state that they can never be a true art form.

Those same critics should reconsider, as they are forgetting the most important aspect of interactivity. Interactivity marks a crucial distinction between decidedly non-interactive mass art forms such as film, novels, and recorded music and new interactive mass art forms. (Smuts) Interactivity is actually delivering an experience, one that could possibly be more artistic in nature than any medium that has come before us to date. The experience of traversing a game world leaves a respect of all the various outlets of artwork within a game. Players are subconsciously forced to take notice of the choices made by artists at the original concept stage, those being shown in gameplay and the overall style of the game world. Then, the art contained within the overall product of the game, thus leaving them noticing the visuals, details, and story. Ultimately, the binding of these various layers of art allows videogames to define themselves as not only an art form, but through delivering a lasting, interactive experience, they could become the most important art form of the future.



In Shadow of the Colossus, players are forced to emotionally slay mythic beasts that have caused no harm.

Where videogames lead art is knowledge that no one is privy to as of yet, but it is interesting to see that they first face the same questions that have surrounded other art forms for all of history. The philosophy of art is laden with issues surrounding definition, and videogames are obviously no different. The debate surrounding games has led to the redefining of terms such as 'interactivity', 'videogames', and even 'game' itself. (Smuts) The weighty discussion on these terms is proving that the critics unhappy with the notion of respecting videogames as art are already facing difficulty in voicing their opinions with concrete proof.

The gaps within the academic definitions of terms like "videogame" have left scholars and philosophers with much debate still necessary to classify games as an art form, and even what particular form of art games should be considered. Are they more closely related to film, or are they similar to performance arts, such as dance? Perhaps they are more akin to competitive sports and games like diving and chess? (Smuts) Videogame creators seem content to leave this debate to those willing to participate, and some have gone as far as to deem that they are striving not for art in their creations, but for enjoyment. Hideo Kojima, creator of the Metal Gear Solid series of games, said, "Art is something that radiates the artist, the person who creates that piece of art. If 100 people walk by and a single person is captivated by whatever that piece radiates, it's art. But videogames aren't trying to capture one person. A videogame should make sure that all 100 people that play that game should enjoy the service provided by that videogame. It's something of a service. It's not art. But I guess the way of providing service with that videogame is an artistic style, a form of art." (Graft) This definition deems that games should be considered a product first, before they are deemed an art form. While Kojima may feel this way, the actual truth lies in the various examples games set forth.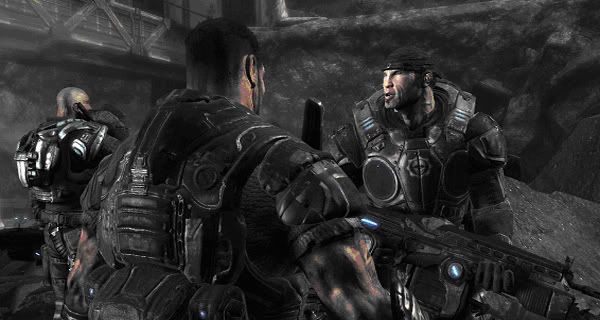 Realism in games is brought to the forefront of importance in Epic's grizzly space shooter Gears of War.

The artistic endeavors of games have spawned numerous examples of which traditional art has been called upon to continue an idea, story, or visual that was originally created within a videogame. If games aren't worthy to be deemed art, how could they possibly carry such ramifications within the artistic world? Traditional art galleries have given forth their space to "I AM 8 BIT", an annual art show dedicated to video games. (I AM 8 BIT) Film has been literally overrun by projects based on the worlds created within videogames, including movies based on the games Silent Hill, Resident Evil, Castlevania, and Halo, the game whose sequel Halo 2, sold $125 million worth of copies within its first 24 hours available, thus making it the single fastest selling piece of entertainment the world has ever seen. (Smith) Literature, comics, and music have also all seen their share of projects based on videogames.

The debate of videogames and art will undoubtedly wage on, regardless of the respect shown to videogames through other, more traditional forms of art. Some will forever deem videogames as mindless, and even damaging to children. Some still believe that videogames are created specifically for children and not for adults as well. As clear as some of the evidence supporting the labeling of videogames as art may be, the proponents of traditional art forms will undoubtedly face difficulty in admitting that what started with something as simple as Pong, has become much more than anyone could have ever suspected. The inclusion of art in the creation of videogames, the resulted product that showcases art and the experience of artistic integrity that results in playing videogames is all proof enough that videogames are more than the hobbies and passions of children and those who refuse to "grow up." From the philosophers attempting to properly define "videogame," to the swaying of the entire entertainment industry, videogames demand a certain level of respect, and hopefully, the eventual proclamation, and subsequent reward of videogames as art will fulfill this. Whether this will occur or not is undeniable. The proof is too substantial, and too promising for videogames to be stricken from academic critique. The only realistic question that can still be raised about video games being considered art, is: When?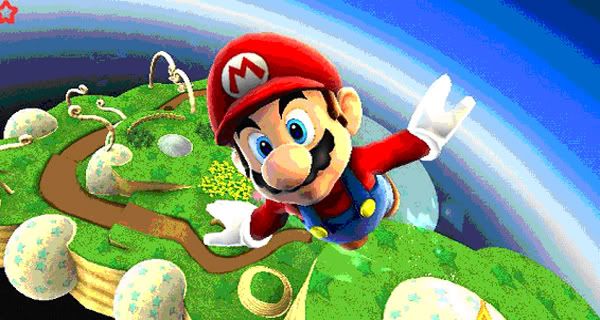 From the birth of videogames to the very finish, Nintendo's beloved Mario will be present to account for it all.

Works Cited:

McCarthy, David, Ste Curran, and Simon Byron. The Art of Producing Games. Boston: Course PTR, 2005.

Tornquist, Ragnar. RagnarTornquist.com. 03 Oct 2006. 17 Nov 2006 http://ragnartornquist.com/?p=211.

Kelman, Nic. Game Art. New York: Assouline Publishing, 2005.

Smuts, Aaron. "Video Gams and the Philosophy of Art." Aesthetics Online. Aesthetics Online. 17 Nov 2006 http://www.aesthetics-online.org/ideas/smuts.html.

Graft, Kris. "Kojima: 'Games Are Not Art'." Next Generation. 22 Jan 2006. Next Generation. 17 Nov 2006 http://www.next-gen.biz/index.php?option=com_content&task=view&id=2098&Itemid=2.

"I AM 8 BIT." I AM 8 BIT. 4. 17 Nov 2006 http://www.iam8bit.net/.

Smith, David. "Halo 2 In The Sales Record Books." 1UP. 10 Nov 2004. Ziff Davis Media. 17 Nov 2006 http://www.1up.com/do/newsStory?cId=3136413.

Note: The transfer from Word document to an internet post is responsible for the removing of occasional italics and other aspects of the original work. As well as the degradation of picture quality.
125 Comments:
2:16 PM

3:24 PM

4:20 PM

5:41 PM

You definitely wrote a great paper. I also find it interesting that you did this for a class, since it's the kind of topic that most people would consider and then think, "Nah, this will never fly... I'll do a paper on stem cell research like everyone else instead."

10:02 PM

3:53 PM

7:00 AM

Thank you very much for sharing your thoughts. It is always great pleasure to read your posts.

8:11 AM

This is a fascinating post! It could not have been expressed better.

9:41 PM

I like reading your post. You've got nice ideas. :)

4:42 AM

looks quite a great post, it's having good information for research analysis. great job

1:13 AM

11:20 AM

this debate is almost endless, no matter how many pages and hour you can spend talking about this topic, all the people have a different point of view, is because that we can't get the same opinion.

12:44 PM

6:42 AM

This is really a great research paper in the videogames and its art in the subject of English 102

10:37 PM

11:58 AM

4:06 PM

It's really a nice and useful piece of info. I'm glad that you shared this useful information with us. Please keep us informed like this. Thanks for sharing.

4:11 PM

Great points altogether, you simply gained a new reader. What would you recommend about your post that you made some days ago? Any positive?

4:13 PM

Hi there, I found your web site via Google while searching for a related topic, your website came up, it looks great. I have bookmarked it in my google bookmarks.

6:56 AM

Great artwork, I love it...

7:00 AM

Agree with that comment. The artwork are very nice.

8:00 AM

7:59 AM

3:15 AM

2:06 AM

This is a great blog I've seen. Keep it up man... You have a bright future awaits...

2:10 AM

Hi Shaan Khan, your message is too long. You're a great writer dude.

10:01 AM

Very nice post. I like such type of entertainment.

4:48 PM

This is so much amazing. Cody Musser versus the internet is like comparing orange and apple. LOL! :)

6:19 AM

5:11 AM

5:12 AM

5:34 AM

11:00 AM

I wonder how you got so good. This is really a fascinating blog, lots of stuff that I can get into. One thing I just want to say is that your Blog is so perfect!

6:27 AM

7:49 AM

8:01 AM

2:59 AM

6:17 AM

5:23 AM

I'm still in the camp that videogames have potential to be art but aren't there yet.

3:00 AM

2:18 PM

6:46 PM

11:09 PM

5:26 AM

I enjoy what you've got right here, adore what you're stating and the way you say it.

3:55 AM

I wonder how you got so good. This is really a fascinating blog, lots of stuff that I can get into. One thing I just want to say is that your Blog is so perfect!

12:40 AM

We didn't have to do any studies, or look at any studies or do any surveys/questionnaires, it was just the usual research. I feel so dumb talking about this, i really don't have a clue..

6:21 AM

Thanks for sharing this information. This information is very helpful for me and it's save my time a lot.

7:42 PM

9:59 AM

10:42 AM

11:25 PM

8:11 AM

1:51 AM

Thanks for sharing this information. This information is very helpful for me and it's save my time a lot.

2:17 AM

2:16 PM

dating diversions http://loveepicentre.com/ dating profile sex site

4:29 AM

4:26 AM

11:11 PM

6:07 AM

10:27 PM

Once we have been watching. These things. I don't know how much I can have time to finish your wish, but I know I have to do all this.

3:09 AM

4:41 AM

6:15 AM

free gay dating sights http://loveepicentre.com/ transsexual tranny dating

1:01 AM

convert gedcom to ebook file http://audiobookscollection.co.uk/fr/The-Neatest-Little-Guide-to-Stock-Market-Investing-2010-Edition/p228075/ beat to quarters ebook [url=http://audiobookscollection.co.uk/es/Apple-Pro-Training-Series-Optimizing-Your-Final-Cut-Pro-System-A-Technical-Guide-to-Real-World-Post-Production/p107846/]mathematics for business miller ebook[/url] adwords miracle ebook free

3:34 AM

6:19 AM

just stopping by to say hi

1:11 PM

10:13 AM

1:10 AM

1:44 AM

4:56 AM

2:00 PM

2:45 AM

8:56 AM

12:09 PM

1:59 PM

8:02 AM

5:42 AM

4:26 PM

7:57 PM

12:55 AM

7:08 PM

9:29 AM

2:42 AM

8:11 AM

1:14 AM

1:52 AM

10:57 PM

12:06 AM

6:22 PM

1:21 AM

4:51 AM

2:31 AM

6:26 AM

12:40 PM

3:34 PM

4:41 AM

12:07 AM

7:44 PM

11:59 AM

10:47 PM

find well-informed people about this subject, but you seem like you know what you're talking about!

6:41 AM

3:49 AM

3:07 AM

10:57 AM

7:55 AM

8:25 AM

1:54 AM

9:37 AM

7:48 AM

8:14 AM

2:34 AM

5:43 PM

1:44 PM

1:28 PM

2:58 PM

Nice Post

6:09 PM

6:57 AM

2:13 AM

10:17 PM

1:12 AM

7:19 PM

10:43 PM

11:37 AM

2:47 PM